The history of China's health aid to Africa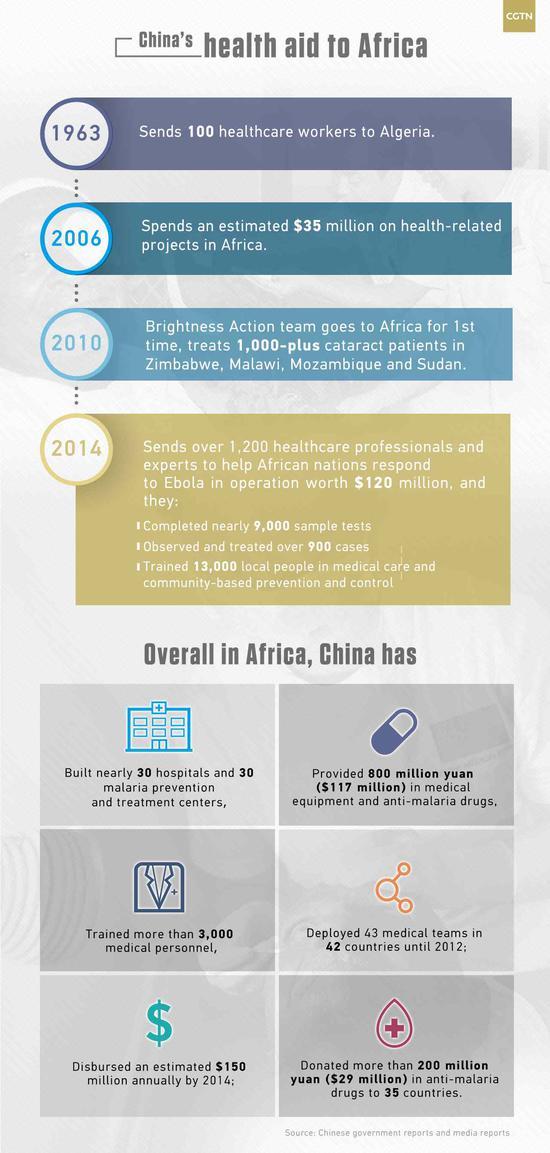 All the way back in 1963, China sent 100 healthcare workers to Algeria after it gained independence from France – and coordination between the sides hasn't looked back. China has deployed doctors to help take on epidemics, and training programs help both sides learn from one another.

Since 1963, China has sent over 20,000 medical workers to Africa and helped accelerate medical progress there, including building medical institutions, providing medicines and medical devices, organizing training sessions, and offering scholarships for medical students.
At the 2006 Forum on China-Africa Cooperation (FOCAC), officials introduced measures to broaden bilateral cooperation in areas such as medical care and public health.
The FOCAC summit held in Johannesburg in 2015 listed public health cooperation as part of the 10 China-Africa cooperation plans, in which China pledged to work with all other countries, international organizations and non-governmental organizations in addressing the global health challenge, and through South-South cooperation, to help build the health sector in developing countries.
FOCAC 2018:the prospect of China-Africa health cooperation
At the opening ceremony of the 2018 Beijing Summit of FOCAC on Monday(Sep 3rd),President Xi Jinping said China will implement eight major initiatives with African countries in the next three years and beyond, covering fields including health care.
Xi said China will launch a health care initiative. China has decided to upgrade 50 medical and health aid programs for Africa, particularly flagship projects such as the headquarters of the African Center for Disease Control and Prevention and China-Africa Friendship Hospitals. Exchange and information cooperation will be carried out on public health. Cooperation programs will be launched on the prevention and control of emerging and re-emerging communicable diseases, schistosomiasis, HIV/AIDS and malaria.
China will train more medical specialists for Africa and continue to send medical teams that better meet Africa's needs. More mobile medical services will be provided to patients for the treatment of cataract, heart disease and dental defects. And targeted health care services will be provided to women and children of vulnerable groups in Africa.